Welcome to the events page! Here you'll find all the info on how to book and pay. 
Upcoming Events

Spring 2023 K9 Coaching Training Classes. SCHOOL'S IN FOR YOUR PUPPIES AND OLDER DOGS!
Bookings are now being taken for March 2023 K9 Coaching Classes.
I have some spaces for the Spring term of my K9 Coaching classes, starting in March 2023 
The course is 6 weeks long and will be focused on getting your dog to listen to you and want to be with you more. This is the foundation of training, as a dog who is listening to you is more likely to do as you ask them! I train using my top T.I.P – Train, Interact, Play. Fun, focus and Freedom to make good choices is at the centre of all I teach, making training a happy event for both dog and handler. Full course is £150 and you will receive a welcome pack, high value food reward and a toy. 
If you want to book on to the course, sign up below and let me know the name, age and breed of dog you'd like to bring along.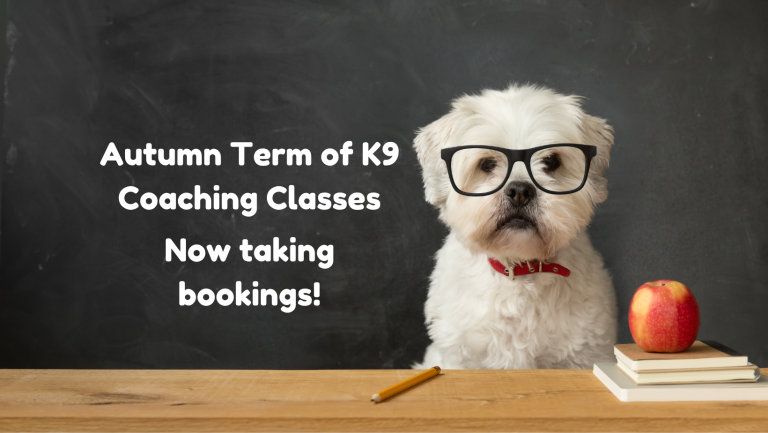 Starting this summer 2022, I will be hosting a Rapid Recall course for puppies and older dogs. It will be 4 weeks long and I'll show you how to build a great relationship with your dog as you practice recalling. We'll look at how to get your dog to focus on you, how to watch your dogs body language and how to be your dog's fun centre. 
It will be outdoor classes, held during the day. The whole course will be £100 and kids are welcome and encouraged to help with the training. So if you want to give the kids a project as well as improve recall with your dogs, then why not book on and come along. You can register your interest using the above sign up button.