Holy forking shirtballs, batman, its September 2021. 
Before we know it we'll have carved the pumpkin, had the fireworks and watched Muppet Christmas Carol for the umpteenth time before counting backwards from 10 into 2022!!
Since the whole shitty pandemic kicked off, time has been weird and we seem to be racing along.
It's been a crazy year for me as I moved from Dipton/Burnopfield area back down to the Barnard Castle area, where the business all started 11 and a half years ago. I moved in with Shaun, who is both the love of my life and a massive pain in my arse (and I wouldn't have it any other way,because he pushes me to be better and do better). I finally added dog training to the business, Thea started school (which she loves) and I started mountain biking to get fitter and have more fun.
Oh, and in among all that, I also managed to win Dog Walker of the Year (for the County Durham area) for the 2nd year in a row!! How fan-dabby-dosy is that??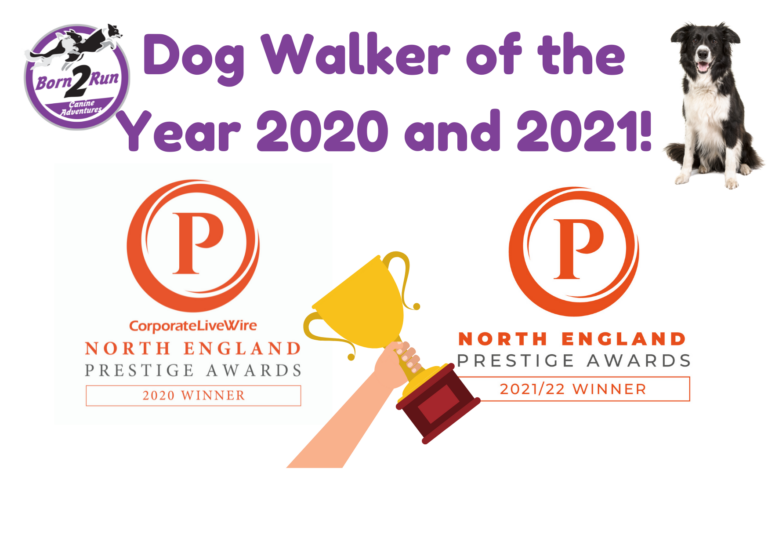 I never expected to win last year, never mind this year, so I'm over the moon to see my hard work being recognised and rewarded.
I have always tried hard to be as 'real' as I can and care for dogs like they were my own. I've known dogs to be like family to me and I just love helping people with their canny canines.
Thank you to all the people who have helped me, supported me, gave me words of wisdom and helped me when I doubted myself, you guys rock! Thank you to Shaun for being that pain in my arse and telling me I can be more, I can do more and I absolutely am capable. You are my North, guiding me and offering much sarcasm and adventure along the way.
Thank you to all my great clients, past and present, for being great people and caring for your dogs in an amazing way.
Check out the rest of the website and contact me on born2run@live.co.uk if you'd like your dog to join an award winning adventure business or if you need a bit of help with training.
Big, fat, award-winning love,
Tam xx