Lockdowns and the Cost of Living Crisis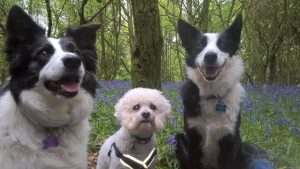 Since the start of the decade, we as a society have been hammered from all angles with stress, worry and a sense of dread. The pandemic caused much worry, for health reasons and financial reasons, but despite that, many people went out and bought/rescued dogs. There was a boom in puppies being sold as families at home decided they now had the time to bring a furry friend into the fold. 
However, that puppy bubble soon popped, as the puppies reached adolescence without much training or socialisation and people went back into the offices (check out the blog I wrote on that subject HERE)
Rescues started filling up and dogs were being put down. A heart-breaking storm indeed. 
And it's not getting any better. 2022 brought with it rising costs on everything from fuel to food, with wages not reflecting the rocketing costs. Many people started to struggle, and decisions had to made on the best way to cut back and save money. Unfortunately, it's the dogs who are suffering yet again. Many people have been forced to give up their pets, with Birmingham Dogs Home taking in 53% more dogs than the previous year (as reported in April, see the news article HERE)
It's not just that the charities are filling up, it's the fact adoptions have slowed down too. We all know dogs are a financial commitment, and at the moment, people just can't afford it. It was reported recently that a North East Rescue was almost at capacity, with adoptions slowing down and more people wanting to surrender their pets. An RSPCA survey said a whopping 78% of people who worried about the cost of living crisis and how it will affect their pets, and Google searches on 'how to give up your pets' increased by 50% between April 2021 and April 2022. 
Gloomy reading, for sure. 
As a dog trainer and walker, I've also seen a decline in people coming to me for classes or 1-2-1's, and I truly understand. However, putting off your dog training, or going a a cheap trainer, may cause more harm than good in the long run, and ignoring any issues you are having could be detrimental. 
As someone who has been through a lot of financial turmoil, I can say I got quite good as keeping costs down in order to keep my dogs. They are living creatures who you made a commitment to, and they should come fairly high up on the priority list in my opinion. 
I've gone without treats, new clothes and nights out. I've cancelled subscriptions or reduced the packages and made do with good old DVD's instead of Netflix. 
When my oldies were on medication, I started asking for a prescription so I could buy the medication online at a fraction of the cost (obviously this can't work with emergency meds) and I swapped foods to cheaper bags. I know nutrition is mega important for our furry friends, but sometimes in the short term, we need to just go with what we can afford. 
You may want to give up on the dog walker or dog trainer to save money, and I get that, but we (trainers/walkers) need to live too, and often we provide a service which enriches your dog's life. Maybe instead of cancelling altogether, just reduce days. If you need dog training, ask about installment plans or budget packages. Just because it's not on the website, doesn't mean they can't offer it. We do understand about the stress this crisis is causing and we want to help you and your dogs through it. We know that if training is left by the wayside, it will cause more problems down the line. 
Times are tough and helping each other will hopefully get us through it. 
I hope we all come out of this at the other end with our dogs and I hope the effects aren't too drastic. 
Take care, dear reader. 
Big Love, 
Tam x