In part 1 I talked about the events which had an effect on me and why I had a distrust of all things collie. Next I'll tell you about what happened to change my mind and how I went from Collie Hater to Collie Coach!
Still in the Middle….
After a few visits to Dogs Trust, we found a kennel with a border collie puppy and a black crossbreed. The puppy was very cute, and I was almost tempted (I had softened towards collie a little by this point) but I looked at the black cross breed who just seemed so sweet and eager to see me. She was down as a 6-month-old collie cross from Ireland, called Jody. I was almost put off by her age, however she looked too cute not to at least check her out. Plus when I said 'sit' to her, she sat down immediately, so I thought to myself she already had some training. We organised a walk with her and immediately I realised she was not a puppy. She walked well on a loose lead; she sat when asked and her teeth were so yellow and covered in plaque so I reckoned she was about 4 or 5 years old.
I applied to adopt her and was successful. I brought her home on the 28th June 2009. I called her Brenna (meaning Raven haired) and she is now an old, arthritic lady who is losing her eyesight and ability to walk too far. She is a dog who came with a few issues (like a very strong chase instinct and anxiety) but she was the catalyst for me becoming the crazy collie lady I am today.
In March 2010 I left my job at PDSA and moved to Barnard Castle (yes, *the* Barnard Castle made famous by that cheeky Dominic Cummings during lockdown) to move in with Graeme and to set up Born 2 Run Pet Care (but not to check my eyesight) His collie lived with his parents and I moved in with Millie, Brenna and my cat. In April 2010, I joined the local dog training club, Barnard Castle Dog Training Club, to begin agility training with Brenna. She was a very bouncy and enthusiasic dog and I thought a dog sport would help focus her energy (and hopefully help me with training)
It was at the training club I saw something amazing which completely changed how I viewed border collies.
I saw well trained, well socialised and well-balanced border collies whizzing around agility courses at fantastic speeds. I was in awe!
One of my agility trainers was a guy called Shaun, and he had his collie Moxie with him to show us the courses and demonstrate the moves. Moxie was (and still is) such a friendly, happy and amazingly trained boy. He is a very handsome red merle collie and probably the goodest of boys I've ever met. He isn't like a dog (not that any dog is *just* a dog!) he's like a little hairy human, full of smiles and happiness. He used to sometimes join in while other dogs were running and check my pockets for treats.
My collie prejudices melted away as I saw how amazing they could be in the right hands. The relationship between Moxie and Shaun was and still is beautiful. They work so well together, and Moxie's fantastic nature drew me in. In fact, wherever Moxie goes, he draws a crowd of admirers!
There was of course other amazing collies there but it was Moxie and Shaun who changed my mind on collies.
It took me less than 2 months to decide I needed a collie puppy in my life. In June 2010, I started looking for a collie puppy. That was an absolute minefield, but that's a different (and long!) story. I think I was lucky to find a good breeder and very lucky to find that the puppy I had my eye on was available as her home had fallen through.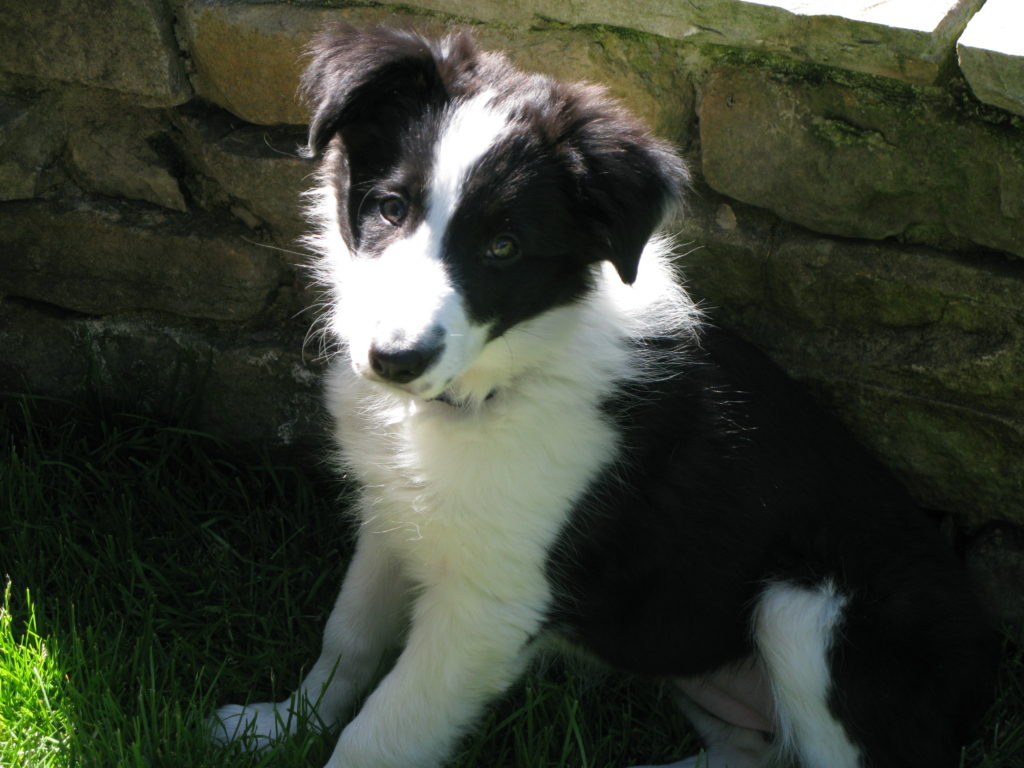 So on June 15th 2010 Graeme and I drove down to Doncaster to meet the breeder and the puppy. It was love at first sight. This puppy was gorgeous, a classically marked black and white girl who just looked perfect. I'd been lucky to get her as she had been reserved by a lady who lived over seas, but that had fallen through and I rang up just at the right time.
We met the breeder and the parents of the puppy, then had an interview on our suitability and knowledge on collies. We were accepted and the puppy was mine!
We drove home with the puppy sleeping on my lap and I was in love. That was the day Brae came into my life and the day I fell in love with Border Collies.
As first collies go, Brae was an absolute doddle and probably lulled me into a false sense of security. Don't get me wrong, she had her puppy moments of chewing furniture, peeing on the carpet and generally just being a tinker, but she was and still is a fantastic dog. The breeder she came from breeds more for temperament than looks or performance, and that shines through. Brae is a very laid back dog. She's bomb proof and takes everything in her stride. I can probably count on one hand how many times she has growled at another dog, and I use her a lot when introducing new dogs into my adventures. She reads dogs very well and is a great peacekeeper. She makes worried dogs feel more at ease and dissolves tension between 2 dogs easily. She is my star, and she is incredibly easy to train. I can teach her anything.
In the End…..
By 2012 I was well involved with the dog training club. I competed at competition level at agility (I reached Grade 5 with Brenna and Brae before we retired, Grade 7 is the highest) I was chair person of the club commitee and I was helping out with beginners agility and puppy classes. Through the club I met Nigel, who was the partner of a lady who ran Morgan's Rescue, a collie rescue saving collies and other dogs from Irish kill shelters.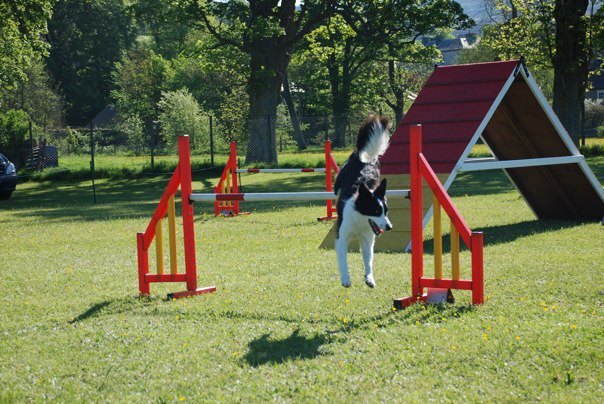 I wanted to help out so I started fostering for Morgan's. Graeme despaired as he knew what would happen if I started bringing homeless collie puppies home. He was right of course and I became a failed fosterer on my 2nd foster puppy.
Taryn came to me from Ireland as a 12 week old puppy on the 29th March 2012. She had been born on a farm to working parents and given up with her littermates at 8 weeks old. She spent some time in rescue in Ireland before being brought over to England. I collected her from Eggleston near Barnard Castle, where I'd been doing some agility training with Nigel.
The first time I saw her broke my heart. She was this tiny, scrawny, dirty and petrified puppy in the corner of the crate in the van. She had pushed herself so far into the corner, trying to make herself invisible and hide. I just felt so bad for her.
I put her in my van and drove the 10 minutes back to Barnard Castle. In that time she had vomited, pooped and peed all over herself and my van! I bathed her and then gently introduced her to the other dogs. I had worried about Brae as she had really disliked the first foster puppy I had and refused to have anything to do with her.
However, with Taryn (who was called Bella originally) Brae just took her under her wing. Within the day Taryn was cuddled up to Brae in her bed and Brae started playing with the tug toy with her. I knew then I was keeping her.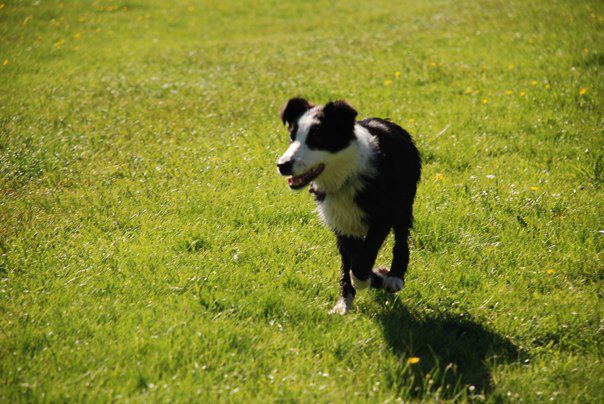 Took me less than a week to convince Graeme to let me keep her, and that was that! Taryn was a completely different kettle of fish to Brae. While Brae had been a confident and well-balanced puppy, Taryn was timid, very nervous, had food guarding issues and couldn't walk outside because of her crippling fear. Taryn was the challenge I needed to help me learn more about dogs, more about dog training, and more about border collies. Even now 8 years later Taryn is a challenge. She is much harder to train as she is just so cautious. It takes me 5 times as long to train Taryn something new, and it takes more patience and perseverance.
They always say that easy dogs don't teach you anything, and it takes a challenging dog to  test your mettle, and it's so bloody true! Both Taryn and Brae are great dogs and both have such lovely natures. They even won over my dad, whom had always hated collies! I worked my backside off to make sure Taryn became a more rounded dog, as I knew even back then that in the wrong hands or wrong training, she had the potential to become a very troubled dog.
Since then, Graeme and I broke up, and I moved back home in 2014 (my dad was thrilled when I rocked up with 3 dogs, a cat and 2 rats) I then got my own place in November 2014, somehow ended up with a hairless puppy (I think they call them babies!) in 2015. Brae unfortunately has never forgiven me for bringing a human baby home. The day I came out of hospital, Brae ran to greet me only to back off in disgust when she saw I wasn't alone. Since then she regularly looks at me as if to say, "when is that thing going back?"
Weirdly Taryn has been the best with Thea and the changes she brought. Usually Taryn hates disruptions and change, but she lay by feet that first night at home with the baby and since then has been an absolute star.
The years of owning collies have made such an impression on me an they have impacted my entire life. My business now revolves around collies, from the logo I now use to my niche of specialising in collies. I don't know if I'll ever be without them. They are wonderful, focused, inteligent, goofy, amazing creatures. I am the Crazy collie lady (my sister had a T-shirt made for me declaring just that!) and my aim now is to help as many collie owners as I can.
Did you know I'd written a book?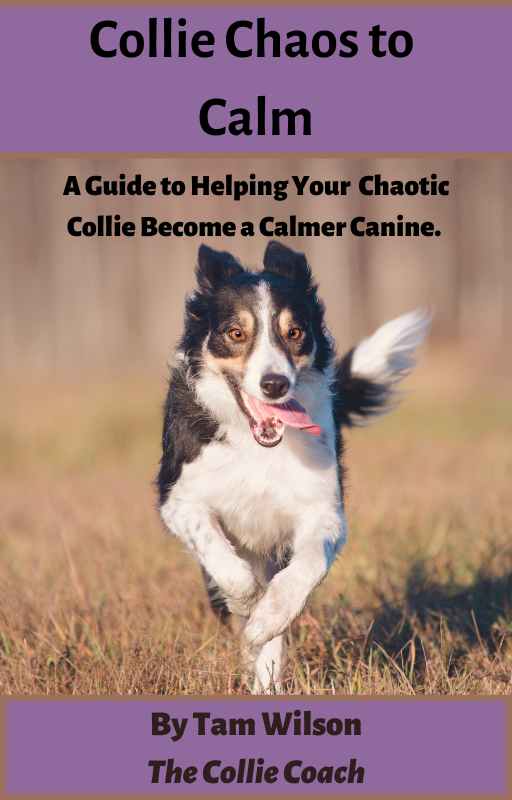 That is why I have written my short book, Collie Calm to Chaos, a guide to helping your chotic collie become a calmer canine. It tells you about the 3 big mstakes people make with collies and how to avoid them, Plus 3 ways to feed and enrich your dog, and 3 ways to train and play.
It's all written and hopefully will be pubished in October 2020! If you want to join my mailing list to pre order once I've uploaded it, please click here.
So will I have another collie? Of course! In fact, my puppy broodiness has been tingling away for well over a year now, so a new puppy could be on the cards in the not too distant future. However, if it were up to Thea, we'd get a kitten. Thea is a self-confessed crazy cat child and I'm not too sure how that happened. She will pick cats over dogs any day and often complains that dogs just aren't cute enough!
Thank you for reading my story so far. I'm sure there's many chapters to add as yet!
Don't forget to sign up for my new book. You'll also get my emails twice a week, which are both hilarious and educational. What's not to love?!
Catch you next time guys!